One of the things I love about knitting is the wondrous variety you can achieve with a handful of basic techniques, and so often — especially when using beautiful, high quality yarn — the simple can look elaborate and complicated. Come to think of it, the same principle applies to weaving. Plain weave can look stunning with beautiful yarn, and with a little planning, you can create all sorts of pretty patterns. Plan those pretty plain weave patterns. (This alliterative moment brought to you by the letter 'p.')
There are a couple of patterns in knitting which mimic the look and texture of weaving. Linen stich is the most common. It creates a smooth, flat fabric which does not curl the way that stockinette does. A similar technique which uses only knit stitches and slipped stitches (no purl stitches) also has a woven look to it, but is more textured. I have made several Noro Slip Stitch Stripe Scarf and love them. (You don't have to use Noro. I have one on the needles using two solid colors, and it looks almost like houndstooth.) Here's one example:
I promise that it looks more complicated that it is. It could easily be the second project a knitter every makes.
One of the most popular woven patterns, if not the most popular, is plaid. It is iconic, world famous, and offers endless opportunity to play with color. Replicating it in knitting can be complicated … or so I thought.
Enter Franklin Habit, fiber artist and teacher formerly of Chicago, Illinois, and currently residing in Paris, France. If you want to see delightful pictures of Paris and surrounding areas, often with a fiber and textile theme, follow him on Instagram. I support him on Patreon and have therefore been receiving a series of lessons on color theory. The most recent installment features one of his older patterns Princess Franklin Plaid Collar. The link takes to you the pattern, which is free and includes a delightful story of the process that went into creating it (another example of the "behind the scenes" information I love).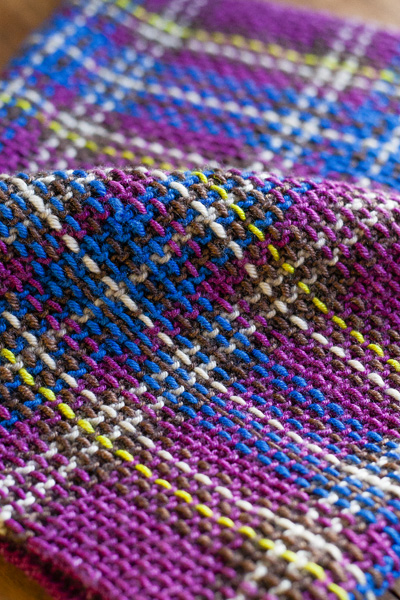 The short version is that you knit garter stitch (knit every stitch of every row, so once again, no purling) stripes, and once the knitting is done, you weave strands across the surface of the fabric to create the plaid detailing!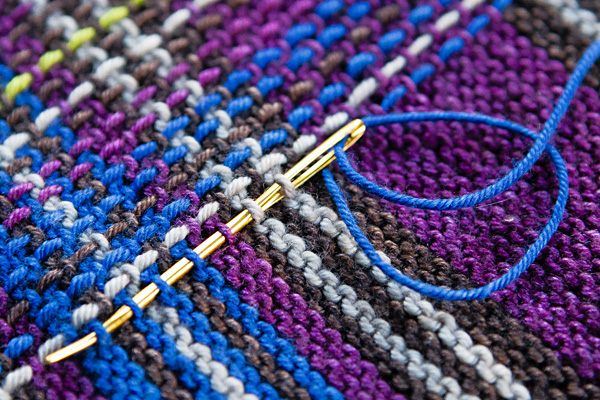 Is it a bit fiddly in that you have to pay attention to what you are doing when you are weaving? Yes. Are there a bunch of ends to weave in from all of the stripes? Yes. But, come on, garter stitch stripes and a few extra strands to make gorgeous plaid fabric? Sign. Me. Up.
I am definitely adding this project to the list. Will I get to it anytime soon? Probably not because I am still all about socks and sweaters, although I have added a blanket to the mix which I need to post about. Also, I want to make a nice long scarf rather than a cowl, so I will need to do a bit of stash rummaging and planning. Once I get going, I will be sure to report back here.