(Random thought: Am I supposed to capitalize blog post headings like titles? I guess they are like articles, but they don't feel that formal or official. I suppose I could look it up and at least find a best practice somewhere. Until then, I'll improvise as the mood strikes me.)
(Also, this choice to just write and post and not worry really takes the pressure off and pretty much obliterates expectations. Cool!)
Note: This post might qualify as containing spoilers for The Paris Apartment by Lucy Foley, so if you plan to read the book, proceed with caution. I'm sharing some thoughts I have about one of the characters and a connection I made as a result, but not revealing any major plot points or developments.
In The Paris Apartment, as Jess tries to figure out what is going on with her brother and what might have happened to keep him from being at the apartment when she arrives, she talks to the other people living in the apartment building. There are also chapters told from the point of view of those people, and they reveal their interactions with Ben.
As I was reading, I decided that Ben might not be as sincere or as good a guy as he seemed. Charming? Yes. Charismatic? Yes. But also sharp and observant and not above using his charm and charisma for, shall we say, less than altruistic purposes. I got the feeling that he might have been up to something. A bit of a wolf in sheep's clothing, even. You think he's a caring friend who is showing genuine interest and concern, but is he? Did he come to Paris with a purpose, plan, or agenda?
Eventually it clicked for me that there were hints of Tom Ripley in Ben. Nothing so sinister or violent as the talented Mr. Ripley, but a young man with charm and charisma who could talk his way into and out of situations as the need arose or an opportunity presented itself. Someone who was a bit of a chameleon as it suited his purposes. Ben's adopted family provided him with a good life and education, but he didn't have a lot of money. Even if he did always seem to catch a break and come out on top, he wasn't able to live like Nick, the wealthy friend who got him into the apartment in Paris, and he may have resented it.
Being reminded of Tom Ripley got me to thinking about Patricia Highsmith and that I should read beyond Strangers on a Train and The Talented Mr. Ripley. I knew that she was a prolific writer, and I wondered whether she kept letters or journals and whether they had been collected or published. A quick search turned up Patricia Highsmith: Her Diaries and Notebooks 1941-1995 edited by Anna von Planta and published by W.W. Norton just a few months ago.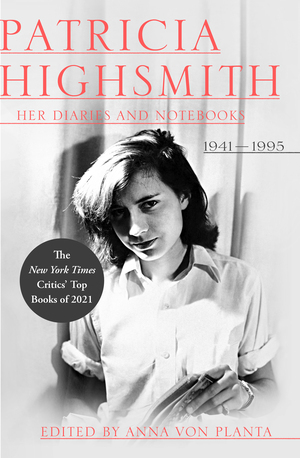 When Highsmith passed away, she left behind an extensive personal history in the form of 18 diaries and 38 notebooks. The volumes contain a total of about 8000 pages, documenting not only her life but also her evolution and growth as a writer.
From the editorial note at the beginning of the book: "Pat essentially maintained a double account of her life: whereas she used the diary to detail her intense, at times painful personal experiences, she used the notebook to process these experiences intellectually and muse on her writing. Pat's notebooks were workbooks, and a playground for her imagination…. Her diaries help us better understand the notebooks…. While the two formats can be read independently of each other, when read in tandem they help to gain a holistic understanding — in Pat's own words — of an author who concealed the personal sources of her material for her entire life, and whose novels are more likely to distract us from who she was, than lead us to her." (The digital excerpt I am reading does not have page numbers or I would include them here.)
Two accounts. The raw, personal, intimate events in one and the reactions, ideas, and creativity they spawned in another. All I can think is, "Brilliant!! Absolutely brilliant!"
I often hesitate to read published letters or diaries because they are such private works. Sometimes I shy away from reading memoirs of people who interest me because I don't necessarily want to know more than I do from experiencing their art or music. For example, I have a copy of Born to Run by Bruce Springsteen sitting on my bookshelf, and I still haven't decided whether or not I want to read it. He's an amazing storyteller. He's thoughtful, insightful, observant, and well aware of his own flaws and imperfections. On the other hand, I have a very personal relationship with his music, and the music and the live performances may be all I need. I might not need or even want to know the stories behind it all because it might change my relationship with the music. It's a tough call.
In contrast, I very much want to read Unrequited Infatuations: Odyssey of a Rock 'n' Roll Consigliere by Stevie Van Zant, one of the original, if not continuous, members of the E Street Band. Except for the solo years, he is always there on stage to Bruce's left, and he has had many endeavors and adventures away from E Street, so I am fascinated to read what he has to say.
Returning to Highsmith, the introduction to the new book indicates that she clearly meant for her diaries and journals to be collected, preserved, and accessible in some form. The editor notes that certain people have been anonymized to protect them and their families, so while personal and intimate, it's not an expose. I like and admire Highsmith's writing style and respect her as an important literary figure of the 20th century, but I wouldn't call myself a big fan. This "behind the scenes" look into her writing process as much as her life, however, sounds like it is right up my alley.
I shall investigate further and report back.