Many writers, myself included, are drawn to writing tools, advice, and inspiration. Do they have to potential to make us better, more productive, and happier writers? Yes. Is at least half their appeal the opportunity for distraction and procrastination? Assuredly.
(Knitters have the same sort of relationship with the website ravelry.com. Is it a fabulous resource for patterns, techniques, and support? Yes. Do we fall down rabbit holes looking at patterns and posting in discussion groups and admiring projects when we could be spending that time actually knitting? Without a doubt.)
Today's distraction, er, tool comes to you courtesy of the amazing story collective The Moth. Stories shared during Moth events are told by a person standing on a stage in front of hundreds of people. It is not recitation or speechmaking. There are no notes, and there is no memorization. It is an organic, ancient, and undoubtedly nerve-wracking process, but it is not without preparation. These spoken stories involve as much craft and revision as anything written.
Over the last 25 years, The Moth has developed a program to help people tell their stories, to take an idea and learn how to not only share it but bring the audience into it. On April 26th, aspiring storytellers will be able to get their hands on How to Tell a Story: The Essential Guide to Memorable Storytelling from The Moth.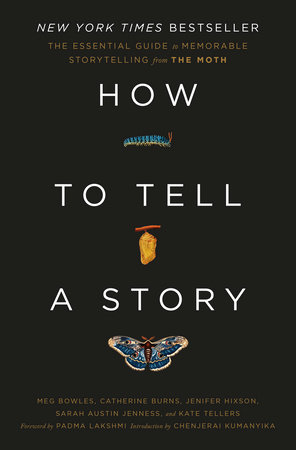 Have I read the online excerpt on the Random Penguin website? Yes, I have. Have I read the sample on the website of the largest online bookseller? Yes, I have. Am I tempted to preorder it from my local independent bookseller so that I can get a pre-order bonus? Most certainly. (Do I have unread books about the craft and skill of writing on my bookshelves? Indeed, I do. Is that an impediment or a deterrent? No, not really.)
Based on what I have read so far, this book is not only for writers and performers. It is for anyone who wants to share a story with anyone else, to build connection and community. Isn't that connection something we need in these wild and crazy times? I think so.